The current COVID-19 situation has led to a significant number of new cases being found which has overwhelmed hospital services. The National Health Security Office (NHSO) thus established a semi urgency group for Home Isolation. However, a large number of people were registered for this group which led to a system overload, some have not been contacted back by staff, and have to wait for a long time, becoming urgency and emergency patients.
The Relief and Community Health Bureau, the Thai Red Cross Society (TRCS), recognizes the severity of this problem and works in cooperation with the National Health Security Office (NHSO), the COVID-19 Situation Administration Center, Department of Medical Sciences, Department of Health Service Support, Ministry of Public Health, Bangkok Health Office, Medical Service Department, the Medical Council of Thailand, Bangkok Metropolitan Office and volunteers from private organizations to assist COVID-19 patients in Home Isolation who have registered in the system within Bangkok, Nonthaburi, Samut Prakarn and Pathum Thani Provinces.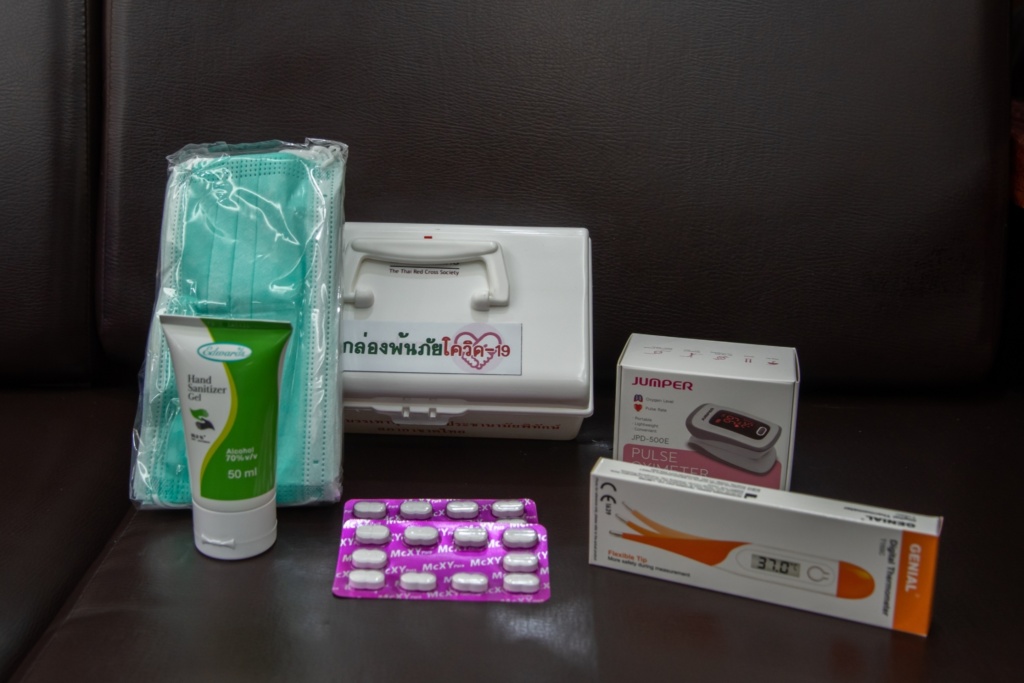 Apart from these organizations, TRCS have worked with some of volunteering teams including Let's be heroes, Mhor Ritz for COVID-19 (หมอริทช่วยโควิด), Thai CoCare HICV, and TRCS Volunteers, to assist 3,163 people registered under the Home Isolation system. Red Cross Health Station No. 11 Viset Niyom, Bangkok, is the focal point coordinating with the NHSO to aid COVID-19 patients. After COVID-19 patients has been checked-up, they will be diagnosed via telemedicine 2 times daily, and will be delivered cooked food, a digital thermometer, fingertip pulse oximeter, Favipiravir, kariyat, and other basic drugs.
During 24 July to 9 August 2021, the Relief and Community Health Bureau, TRCS together with volunteers, have supported people in Home Isolation system as follows;
5,028 registered COVID-19 patients; Favipiravir for 2,561 people, fingertip pulse oximeters for 1,549 people and digital thermometers for 1,710 people.
3,759 registered COVID-19 patients with telemedicine diagnosis; cooked food for 2,643 people and lunchboxes for 2,612 people.
Volunteers from TRCS and outside organizations have supported the telemedicine system and provided supplier of food and medicines for COVID-19 patients during Home Isolation.